Activities & Bonus Clips for Hotel Transylvania 3: Summer Vacation #HotelT3
To celebrate HOTEL TRANSYLVANIA 3 being available now on Digital HD, I'm sharing a few bonus features video clips and activity sheets, which includes a recipe for Drac's Spooky Smoothie.

DRACUSTRAWS & DRAC'S SPOOKY SMOOTHIE RECIPE ACTIVITY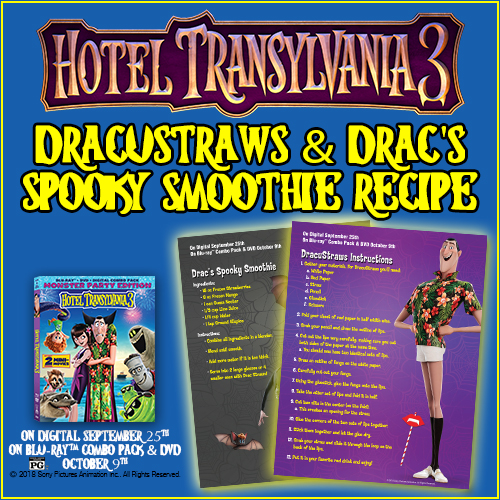 You can make family smoothies for when Hotel Transylvania 3 arrives on Blu-ray™ Combo Pack and DVD on October 9th!
Now watch a few adorable bonus video features clips!
Hotel Transylvania 3- Exclusive Clip: Spooktacular Sleepover
Hotel Transylvania 3- Exclusive Clip: Oh These Wolf Pups
About HOTEL TRANSYLVANIA 3: SUMMER VACATION:
Hotel Transylvania 3 - Now on Digital
In Sony Pictures Animation's Hotel Transylvania 3: Summer Vacation, join our favorite monster family as they embark on a vacation on a luxury monster cruise ship so Drac can take a summer vacation from providing everyone else's vacation at the hotel.
It's smooth sailing for Drac's Pack as the monsters indulge in all of the shipboard fun the cruise has to offer, from monster volleyball to exotic excursions, and catching up on their moon tans.
But the dream vacation takes a dangerous turn when Mavis realizes Drac has fallen for the human captain of the ship, Ericka, who holds a mysterious secret that threatens them all.
Cast: Adam Sandler (Dracula) Andy Samberg (Johnny) Selena Gomez (Mavis) Kevin James (Frank) David Spade (Griffin) Steve Buscemi (Wayne) Keegan-Michael Key (Murray) Molly Shannon (Wanda) Fran Drescher (Eunice) Kathryn Hahn (Ericka) Jim Gaffigan (Van Helsing) Mel Brooks (Vlad)
Bonus Materials Include:
Three All New Scary-Oke Sing Alongs: Sing along to three Hotel Transylvania 3 inspired songs with your favorite characters!

"Dennis Had a Giant Dog" – Sung by Dennis & Winnie
"Monsters Like to Party Down" – Sung by Johnny
"Oh These Wolf Pups" – Sung by Wanda Werewolf

Plan Your Own Spook-tacular Sleepover: This feature will give you all details on how to make your own sleepover spook-tacular! From snacks to crafts to games and more, follow these steps to create a Hotel T sleep-over with your friends and family, the perfect setting to binge watch all 3 Hotel Transylvania movies.
Vampire Make Over: Mavis and Drac Tutorial: Learn how to turn yourself into your favorite Hotel Transylvania 3 characters.
Behind the Screams – The Voices of Hotel Transylvania 3: Step behind the "screams" with the returning stars and hilarious new cast to see how these characters are brought to life in the recording booth.
Johnny's Home Movies (Franchise Recap): Johnny brings viewers up to speed on what's happened in the Hotel Transylvania franchise so far.
"I See Love" Monster Dance Party Dance Along: Get up and get moving to this haunting monster mash.
Drac's Zing-tastic Read Along: It's storytime with your favorite characters have a silly tale about Drac's search for a Zing! Read along or sit back and enjoy!
Two Mini Movies (rated G): Two mini-features that will have you howling.
Directed by: Genndy Tartakovsky
Written by: Genndy Tartakovsky and Michael McCullers
Produced by: Michelle Murdocca
HOTEL TRANSYLVANIA 3 has a run time of approximately 97 minutes and is rated PG for some action and rude humor.
To learn more, visit - www.hotelt3.com
Facebook - www.facebook.com/HotelT
Twitter - www.twitter.com/hotelt
instagram - www.instagram.com/hotelt
DVD , Printables